MASTER CRAFTSMAN
KERMIT POSTL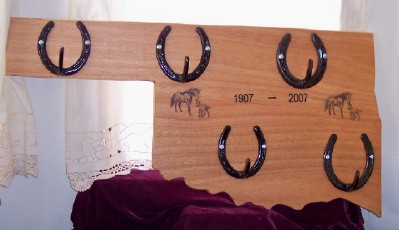 OKLAHOMA STATE CENTENNIAL COAT/HAT RACK
HAND CRAFTED
5 HAND-MADE HORSESHOE HOOKS
33" across the Kansas/Oklahoma border, 18" down the Arkansas side
37" from Colorado to Texarkana.
Each unique rack is carefully cut and has been hand-sanded
and hand-bevelled from choice 1/2-inch plywood to prevent warping or splitting.
Each is sealed and finished with a coat of varnish on the decorated surface.
Mounting holes were purposely NOT drilled
in order that the owner may customize the Oklahoma State Coat and Hat Rack
to the wall studs in his or her own house for maximum support.
The Rack has Five Hand-welded, painted hooks,
each one made from one and one-half recycled horse shoes.
Mr. Postl is a master Boilermaker, retired, and a wizard at the art of metallurgy
and woodworking, not to mention the poetry...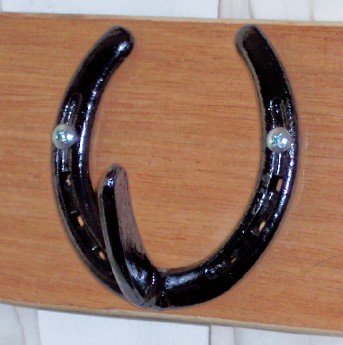 These hooks are also for sale individually along with Kermit's Frogs,
his Horseshoe Cowboy statues, and a number of other whimsical Animal sculptures in steel,
aluminum, iron, and tin, not to mention the poetry, framed and ready for hanging.
On the decorated surface of the Oklahoma State Centennial Coat and Hat Five-Hook Rack,
Kermit has twice stamped the images of a Mare and her Foal.
The images are in black ink. Also on the surface are the dates of Oklahoma Statehood,/p>
in honor of our Centennial year, 1907 - 2007.