CUSTOM COIF (With Beading)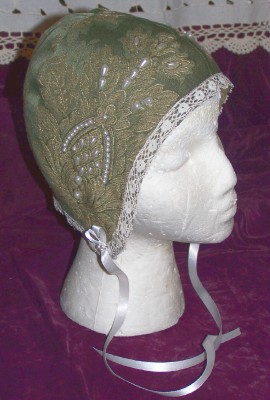 Design your own beaded coif for your specific outfit.
Simple Coif with beaded pattern in the brocade.
Brocade designs vary.
Accept Mom's choice of Brocade, Beads and Lace in the color of your choice,
or request for a sample swatch images of available lace and fabric..
(Actual Swatches gladly sent by mail,
but manufacture will be delayed until you make your fabric selection.)
$25.00 plus shipping
Send Candace a question by e-mail