This is Mom And Kenrick Elton Baptiste, the founder and Sensei for Wind Tai Ju Kan Do, Trinidad Martial Arts. She made these costumes, that is Mom in the pink one. That suit Master Baptiste is wearing is fabulous, with taffeta insets in the jacket, and hand-made taffeta Bow Tie. In combat no one could ever get near Master, his inseam is 36 inches, and by the time one was close enough to see the whites of his eyes he had knocked you across the room with his foot. Note that mom is holding onto the first knuckle of one finger of the deadly right hand...A formidable foe, and a great instructor....And he can cook! Look for some of Kenny's recipes on the International Cooking page.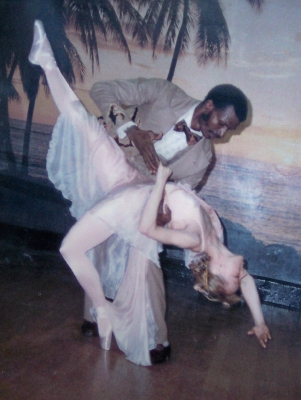 That was 1983. Master Baptiste and Mom appeared many times dancing in SoKa/ Calypso, Disco, and Martial Arts demonstrtations. Mom made the costumes, and Kenny made the bookings. It was alot of fun!

Mom had quite the attitude in 1983...no wonder Kimball likes to dress...