This was the coupe du grace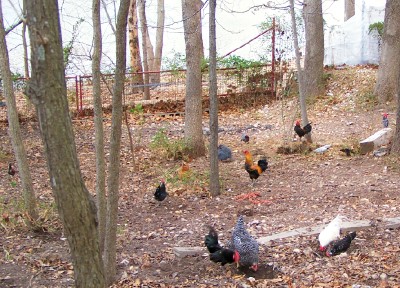 The real challenge was to terrace this huge vale without spending any money. This carries the runoff for the whole hill and the road in front of our place, and was washing out anything we had tried: concrete block terraces, bales of hay, all washed away into the gates at the bottom of the hill. Dad read in his copy of Martha Stewart Living about railroad ties and beautiful grasses, but railroad ties cost money. Then Mom had an idea.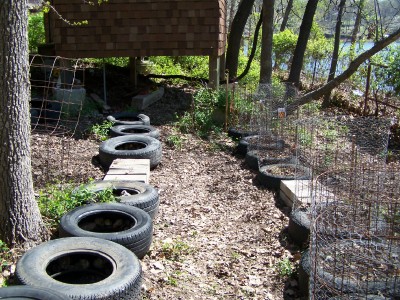 Mom has excavated and carefully LEVELED shaped places for each tire, set each tire into its place, and Mom and Dad have filled each tire with rocks, dirt, yard mulch and llama droppings. The leveling of the tire is critical in its stability, and the weight of the rocks keep the tires in place a they are getting set-in.
By August 2009, over fifty-five tires had been placed, with three terraces yet to build. Access to the gardens had been accomplished with concrete block steps between each level. The green beans, phlox, redbud trees, tomatoes, snow peas, basil, and hostas were all planted in the tires and flourishing. The plants in the tires will hold the soil, and the rocks and soil have helped anchor the tires and eliminate the chance of mosquitos.
By 2011 the terraces were complete,and we were beginning to see the results. With Free-ranged chickens, there is always a little competition between the enthusiastic chickens and the "tendre croppes", as Chaucer so eloquently put i. Many wire cages have been added to the mix to allow the plants to get set-in themselves. These have no effect on the runoff or the erosion control, just the chickens versus the plants.