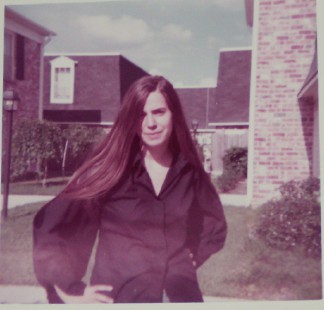 PATSY DAIGLE, 1971

This is our friend, Patsy Daigle.

She went to live with her father halfway through high school. We knew Patsy at Westchester Senior High School in Houston Texas. She had a boyfriend in Miami named Matt, in the early 1970's.
Her father took her to Bellingham, Washington and to Vancouver, and to Miami.
We are still missing her so much, but what can you do?.

Mom spoke to Patsy in Miami in 1971, and that is the last actual contact any of us had with Patsy. Nonetheless, this individual was such an interesting person, and so well loved, The March 2008 Artist of the Month, John Ringland, mentioned her in almost every one of the hundred and twenty five, 1973

Letters From Thailand

, and Mom has been searching the internet for any clue for several years.
MAY, 2010: GREAT NEWS ABOUT PATSY!!!!
A sibling has responded as to the whereabouts of this wonderful person !!!!
and has Emailed to Mom at

zelda@grand.net

!!!!!!!!!!!!
PATSY IS WELL AND LIVELY !!!! (We were hoping for as much)

Patsy was a leader in the art department, with her instinct for creative fun and original thinking. She taught us to play 'lookie' at lunch. Artist, Poet...we miss her wierd sense of humor.
Patsy, We miss you terribly, even after nearly 40 years, and we want to know where the heck you are...
We know you are there. Somewhere...You were just too much fun to be lost to us.
An ever larger number of us from Westchester Hign School and the Memorial area of Houston are wondering;
Johnny Ringland, Candy Hibbard, and now Beth Lagle.
Call. Write. Email us !!!
Search and friend us on Facebook !
Any of us or all of us.
We all remember you SO fondly
and would cherish even the smallest note from you, Patsy !!!!!
WOO HOO !!!!