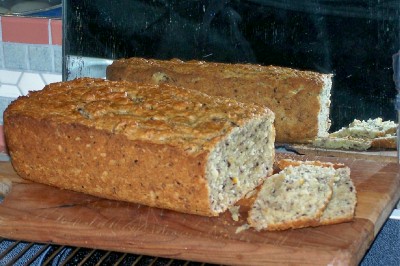 Cranberry Orange Nut Bread
Recipe from the collection of Esther Hibbard,
Attributed to Oleta McSpadden
Make two groups of ingredients, Dry and Wet.
Preheat the oven to 350 Degrees Fahrenheit
Grease a Bread Pan and line the bottom with Wax Paper
Dry Ingredients:
Use a large sifter, combine in the sifter and sift into a mixing bowl
2 Cups Flour
1/2 teaspoon Salt
1 1/2 teaspoon Baking Powder
1/2 teaspoon Baking Soda
1 Cup Sugar
Wet Ingredients:
Combine in a blender
One Whole orange cut into about eight sections, Peel and All
1 Cup whole fresh Cranberries
2 Tablespoons Butter or margarine
Pour in enough boiling water to blend these.
For me, this is about up to the lower part of the handle on my blender.
Sorry that is not more specific.
Back to the dry ingredients
Add One Beaten Egg to the dry ingredients in the mixing bowl
Add 1 Cup chopped Pecans, Choppe fine (Optional)
Stir in the wet ingredients from the blender
Spoon and Spatula the whole thing into the Bread Pan and bake or about an hour,
or until a toothpick comes out clean.
Cuts much better when cool.
Mother served this in thin slices made into bread and butter sandwiches.