PASTELS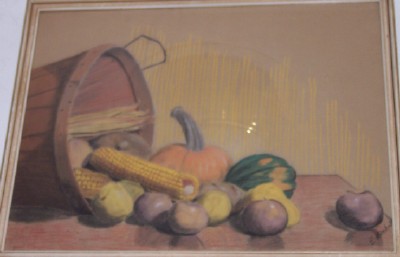 The 'Kimball' signature indicates a date prior to 1945.
CERAMICS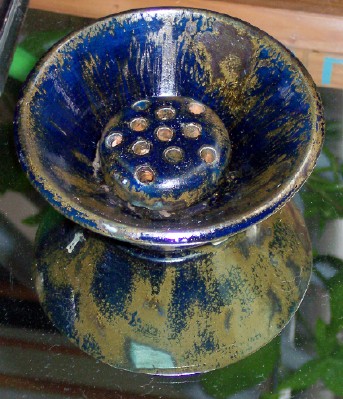 This was probably made for specific flowers. Esther was an active member of the Tulsa Garden Club, and always a garden club in her residential neighborhood as well. Esther and Mom won some nice ribbons for flower arranging in the 1960's at the beautiful Tulsa Garden Center. Haines' Aunt Nell was a nationally recognized gardener and writer of horticultural articles in national magazines. Esther did not hit it off so well with her Mother-in-law, but Esther and Nell shared a love of gardening, and many of the antiques at the M.A.D. House Artists have to do with gardening. We even have Iris from the gardens at the Birmingham Mansion in Tulsa, an house built in the 1920's by the Mounts, Haines' Aunt Nell (Helen Fletcher Mount) and Uncle Walter (Walter Mount). A story for another page...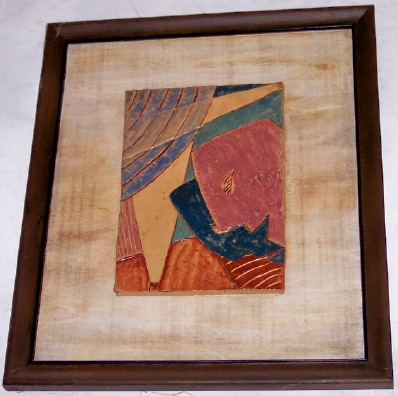 Tragedy and Comedy, Ceramic Plaque. Some of these actual glazes are among the ones Grandma had saved since 1940 and trucked from home to home. In 2009, Mom rehydrated them and has used some of them to glaze new and old pottery. Clay is such a wonderful medium. Esther was always a performer. Her mother, Mrs. R.L. Kimball, had a school of elocution in Tulsa, and Esther grew up with the readings and sketches, acting in them and in the school and community theatre as she went along. Theatre pages also in the future for this website...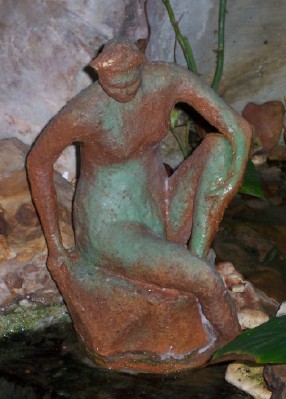 This is only a small sample of the ceramic work. In 1948, when the baby died, Esther went back into the art studio and threw pots. And threw pots. And threw pots. She seems to have worked off much of the grief on the clay. There are quite a few signed 'Hibbard', which would indicate this post-1948 period of her art study. The Punch Bowl with the twenty-four molded cups, not the least of these.
CALLIGRAPHY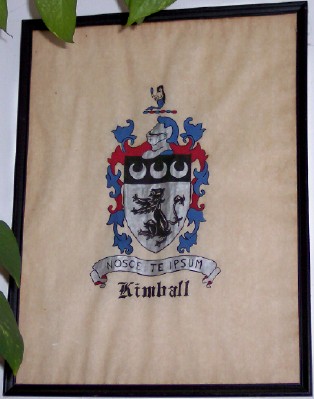 The Kimball Crest,
One of a series given to each family member as Christmas presents in the late 1960s.
The artwork shown here is by no means all of it. This is just the tip of the Iceberg...Just a few of those that are on display around The M.A.D. House. Now you can see why Mom is ashamed to show her own work to any degree. If there was ever an over-achiever, Esther Kimball Hibbard was one. For example, in the area of crafts: Knitting, Lanyard Braiding, Sewing, Crocheting...I counted 222 coat hangers covered with braided lanyard cord, all done while Mother and Daddy were driving in the car as they made their way on their extensive travels. You should see the full length knitted cape with the four-foot cables down the front knitted for Mom in the 1970's. When the news is decrying the disadvantage of hyperactivity or Attention Deficit, they forget how past generations learned to cope and capitalize on these 'disadvantages'. ..take Mom for example...