REALISTIC DIRECTIONS FROM THE SOUTH WEST and JOPLIN
(strange as that may seem)

Make your way on highway 28 or 82 to Langley, Oklahoma and cross this historical Grand River Dam, upon which our own Grandfather, Hazen Kimball Hibbard, was an engineer in 1940
Drive through the charming island town of Disney, Oklahoma,

Be sure to stop at what used to be Pistol Pat's for their excellent Ice Cream and Bar-B-Que Sandwiches. The menus are written in Cherokee and English.

Cross two spillways, pass through Tia Juana, Oklahoma and continue on two and an half miles east on highway 28.

On your left you will see a nice new Mini Storage, a pretty blue sign indicating CHEROKEE LAKE ESTATES, and an enormous billboard proclaiming RAPER CORNER and pointing to Raper Hollow


Turn left at that corner into 'Cherokee Lake Estates' and continue straight for about a mile, DOWN into the ravine and UP the other side. After you level off, there is a second sign proclaiming

"CHEROKEE LAKE ESTATES"

Turn left again into CHEROKEE LAKE ESTATES and almost immediately
Go Straight Ahead onto the Dirt Road

where you will see a small sign pointing down the dirt road that says,
guess what?, 'Hibbard-Lillie', (of all things!,)
and The familiar Shire Fairy Shire sign in black and green.
(oops - that sign has been stolen - just the arrow at this time)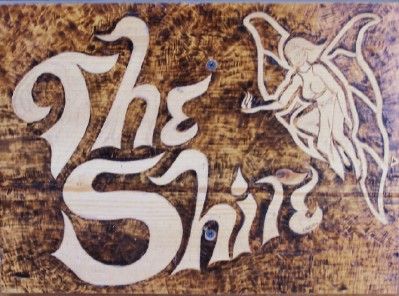 Continue down the dirt road for one mile to the Llama's pasture (which is all tree-covered). Signs along the fence describe the plants. There are a number of license tags on the tree near the upper gate, the FIRST gate - where you turn in and drive in, the one with the sign proclaiming 'The M.A.D. House Artists', in red and purple and bright green. If you are expected, don't worry, the dogs will be safely penned up enjoying their field.
If you are surprising us, call 918 435-4150 and give us half an hour so we may corral the canine stock and put our shoes on.
WELCOME TO The M.A.D. House Artists!