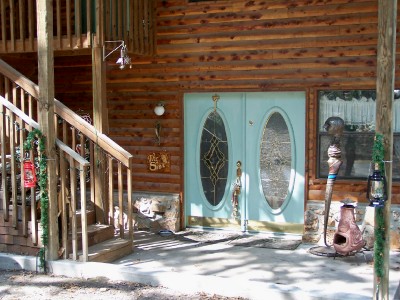 REALISTIC DIRECTIONS TO The M.A.D. HOUSE ARTISTS FROM THE EAST, Jay or Grove
Make your way from Grove, Oklahoma or Little Kansas, or Arkansas to Jay Oklahoma and head west out of town at BILL'S CORNER (which is NOW a convenience store and gas station, possibly referred to as "The Y") on highway 20. The old store with the 'BILL'S CORNER' sign has been demolished in 2009 and is now a new filling station with a very large metal rooster in the lot, but turn there anyway.

As you drive down highway 20 towards the southwest, you will see a sign for highway 28. Highway 28 ends at highway 20 where the Shamrock Station (Marvin's Trading Post) is located.

Turn right onto highway 28 at the Trading Post.

(Farther along down twisty-section-line-road-highway-28 is Cosby's Catfish Restaurant. And Cosby's is now OPEN FOR BUSINESS AGAIN!, if you want a great all-you-can-eat catfish dinner - THIS is your best bet around.)



But back to highway 20 and the Trading Post...

From the turn at highway 20, drive about eight and one half miles, past the Y-Not-Stop
and Cosby's, on DOWN and UP the steep hill (best not to take it at 60mph...) and around the bends in the road to the electric substation on the left at 510. Across 28 on the right is the nice blue sign proclaiming "CHEROKEE LAKE ESTATES" and an enormous billboard proclaiming "RAPER CORNER" and pointing you towards 'Raper Hollow' to your right.
Turn right at that corner into Cherokee lake Estates, from highway 28.

Having made the right turn towards 'Cherokee Lake Estates', continue straight on that asphalt road, DOWN into the ravine and UP the other side. After you level off, there is a second sign proclaiming

"CHEROKEE LAKE ESTATES"

Turn left into CHEROKEE LAKE ESTATES and almost immediately
Go Straight Ahead onto the Dirt Road.

Continue down the dirt road

for one mile to the Llama's pasture (which is all tree-covered). Signs along their fence describe the plants. There are a number of license tags on the tree near the Upper Gate, the FIRST gate, where you

turn in

and drive in, and a sign proclaiming 'The M.A.D. House Artists', in bright green and purple and red. Don't worry - it is a circle drive, you go on out the other gate when you leave.
If you are expected, don't worry, the dogs will be safely contained.
If you are surprising us, call 918 435-4150 and give us half an hour so we can corral the canine stock.
WELCOME TO The M.A.D. House Artists!