QUILTS
Denise Schultz is a master quilter. Here are but a few of the magnificent quilts she has prepared for people, won prizes for, and with which she has graced the field.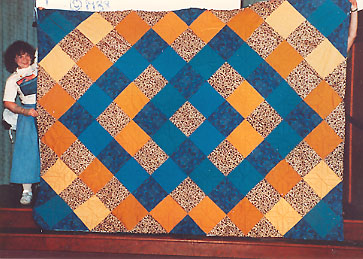 First Quilt: Made of Indonesian Batik, being shown at Denise's first San Francisco Quilt Guild meeting in 1988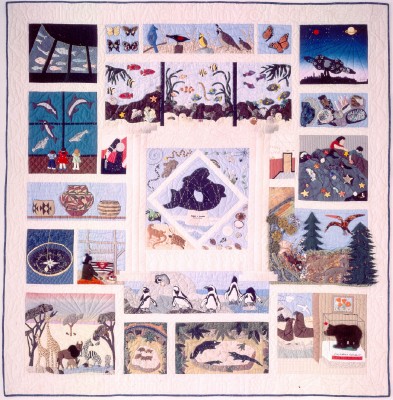 Academy Tribute Quilt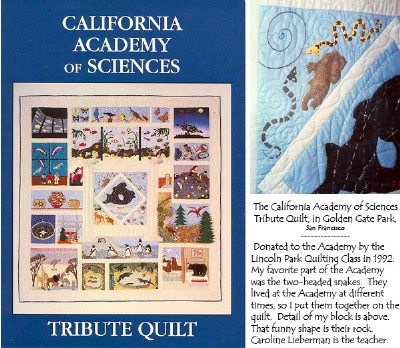 Donated to the Academy. The two-headed snakes were Denise's favorites, the detail is the snakes and their rock
in the block upper left in the center of the quilt.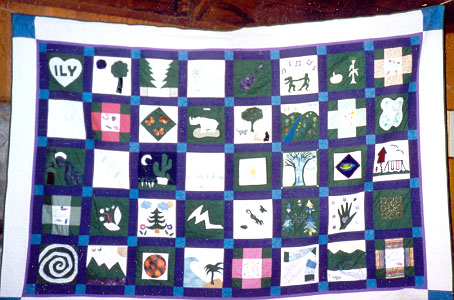 Folk Art Quilt, comissioned as a wedding present for Doug and Cathy,
from Sage.
All the blocks were done by people who had never sewn before,
and Ms Schultz won a ribbon for it as a group quilt.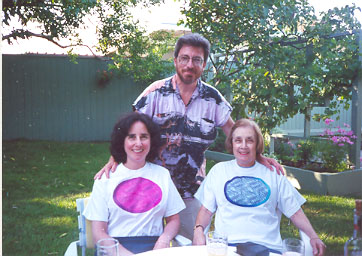 An unknown man standing behind Lisa and Bel (daughter and mother) on Lisa's birthday. Lisa and Bel are wearing T-shirts designed and made for them by Denise Schultz.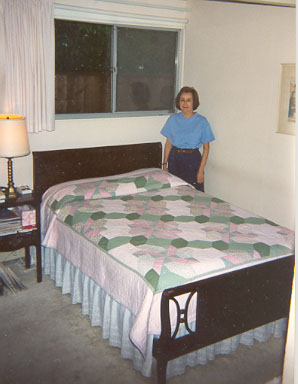 'Double Delight,' a quilt comissioned for Bel (shown with the quilt) by Lisa. Made with a unique machine quilted rose design adapted by ms Schultz into a single line design (no starting or stopping) from a photograph of Bel's favorite rose.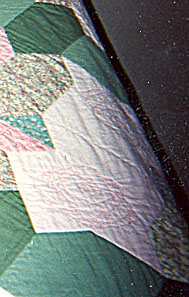 Detail of the single-line rose quilting design.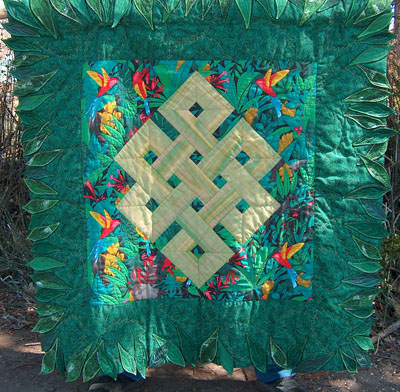 'Endless Road' Rainforest Quilt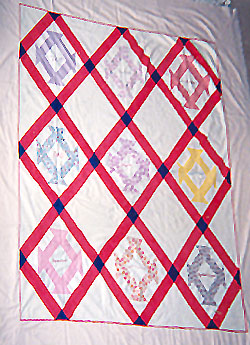 Antique Friendship Quilt Top from Texas.
It is from the 1930's and Ms Schultz was commissioned to put it together for the family. This quilt is unusual because the men sewed their own blocks
(rather than having the woman sew for her husband).
The center block in the left column says "Dad."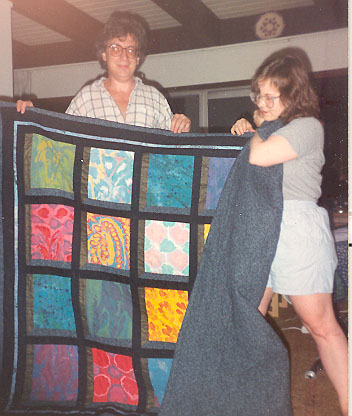 'What A Night ' Quilt
Detail in which you can see the unusual marbled fabrics
Denise made for this quilt.
The artist holding 'Celestial Spring' Quilt