ABOUT DAD AND THE SHIRE:
Dad is an accomplished Musician (semi-retired from touring as a rock & roll keyboard artist), an Artist, an Amateur Astronomer, a Reader of Stories, a Licensed Airplane Pilot...An appropriate head of family at The M.A.D. House Artists with his eclectic interests. IN 2005 we asked what he wanted for Christmas, and now he has an electric guitar. Here they are, Dad and the Stratocaster, in the Studio : (Dad won the Bear in a contest.)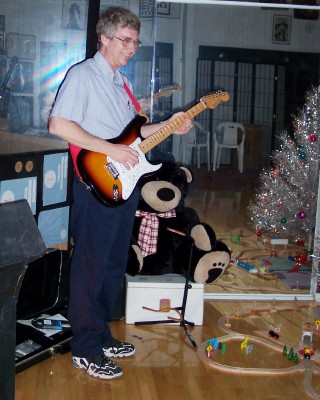 Apparently Dad can play any instrument he picks up. When Mink was studying the violin, Dad learned to play it, too. As far as that goes, when Mink was being carried before she was born, Dad played on the recorder"Der Winter Ist Vergangen" to the baby through Mom's stomach for six months. Dad has learned flute over the past few years, and he retired as a Rock-and-Roll Keyboard Player about twenty years ago, before he became a Postal Clerk. In the Bands he had picked up guitar technique and synthesizer... a bundle of talent. Not to mention the two Black Belts in Karate. Dad broke so many bones in the process of earning his Belts, that our son suggested a Sit-Com entitled "Karate Dad" which would take place exclusively in the Emergency Room of an Hospital. Once Dad even got up in a meeting of Postal Workers and announced that what he REALLY wanted to be was Wiley Post. Last year it was Eric Clapton. Yesterday Doc Watson...
It was Dad who said, "All we need now is a couple of Llamas!"
THE SHIRE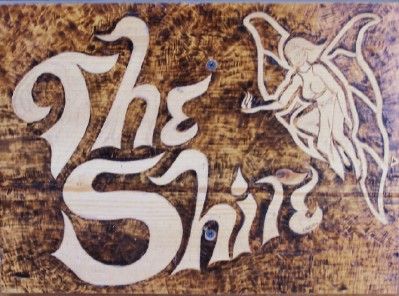 The Shire is Dad's precinct. On Sunday afternoons at 3:00 we gather to hear him read. Handsome T-Shirts with Mom's original art are available on the Shire Fairy T-Shirt page. Some years ago Dad read all of the Tolkien titles to each of the children (in sequence) and Mom suggested that it would be a shame if he didn't share the talent with other people. The variety of voices and the great book selections make The Shire a wonderful afternoon with Dad. (Eat your heart out, Jim Dale!) The time and day may change shortly because of Dad's work schedule at the Post Office. He is moving to a night position from a day position.
Recently Dad hauled out his collection of Collage Art and will be offering prints of those on Greeting Cards and Post Cards in the not-too-distant future. This is what one does when one is stuck in motels during prolonged musical gigs, if one is not involved in the other two aspects of rock and roll...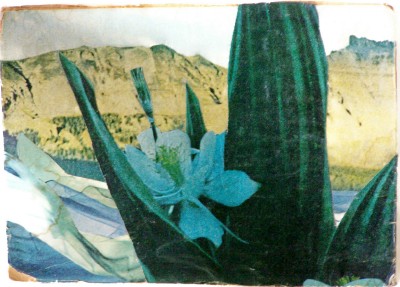 FLOWER OF THE DESERT