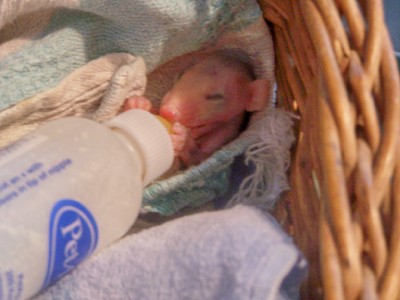 After a quick consultation in the ABANDONED AND ORPHANED BABY ANIMALS book, Mom called Dad at work and asked for a new baby bottle and formula for a small mammal.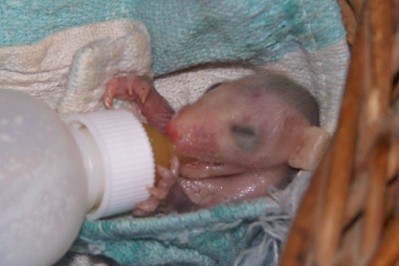 Dad, of course, rallied magnificently, and showed up with wonderful pro-bio tummy starters , a bottle, and formula. These first two photos are later in the afternoon following an exciting day of many other distractions and disasters, when Mom and the Baby Opossums had gone to school for the Band Spring Concert...Mom wrapped them up and bundled them in the hem of her sweat shirt for the concert to keep them warm, and the friends helped with the feedings before and after the concert.
FRIDAY, MAY 15th, 2009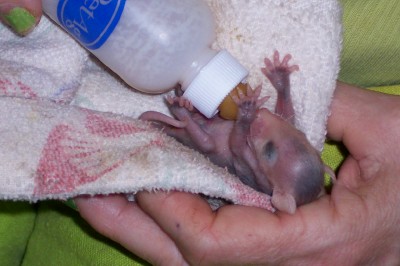 Yum.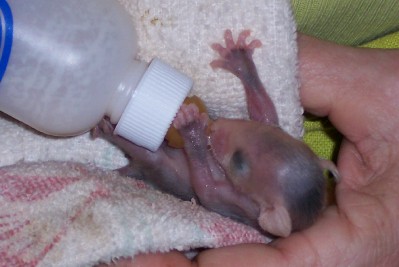 Fortunately for Mom there was no lack of volunteers on Friday, and the replacement of the old hot water bottle with water drinking bottles full of hot water under the blankets has made the problem of regulating the temperature an easy one to solve. Here we go with the ten P.M. Feeding.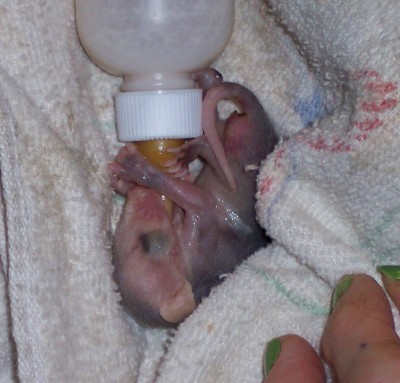 A Lou Gosset film that is a favorite of ours is ENEMY MINE (click the name of the movie for the Amazon link). Mom has been feeling alot of kinship to that film for the past 24 hours or so. Especially since the squirrels ATE one of the bird feeders on Wednesday.(...varmints are not usually favored around here....)
Not the Bird Feed, the adult squirrels ate the Bird FEEDER.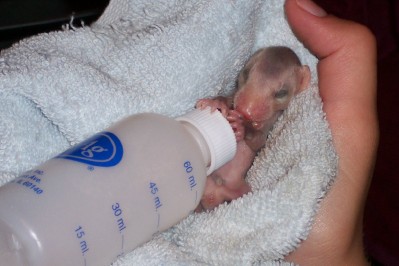 Nonetheless, we intend to do our best to preserve the lives of these two fellows.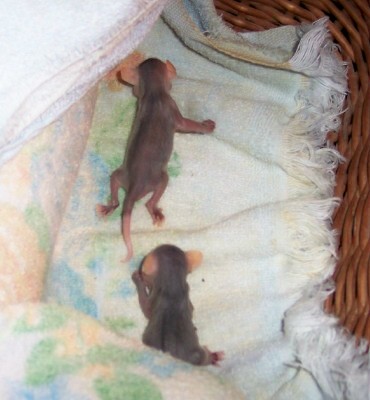 The book we consulted said that these two little opossums may be very difficult to feed, as they need their feedings so often and in such small quantities. They were pretty resilient, to be out on the ground in the wind and rain, survive in the open for hours, and managed to get through examination by a 120 lb. dog and a number of teenage girls. More pictures as they are taken. These are the first two days of Minks opossum 'Motherhood'.