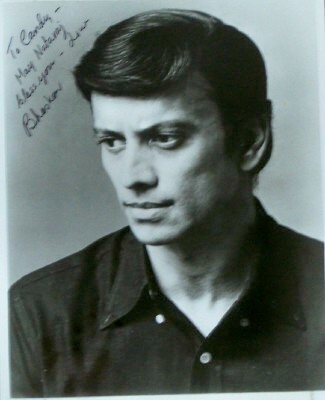 At Bhaskar's funeral in 2004, person after person stood and said, "This man was impossible, he drove me crazy, he drank way too much, he worked me harder than anyone ever had before. Giving freely of himself, he taught me at no charge, put me on the stage, and I owe him more than I can ever say." Mom was one of those people.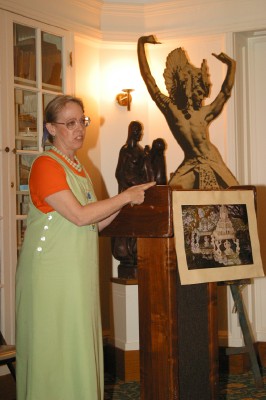 In 1930, India still had the remnants of the caste system, Princes were real, and Bhaskar was born a Prince. Grandson of the Zamindar of Mednipur and Bhwanipur, Bhaskar's family had owned the land upon which was built Bombay, and he had the social standing that went with the title. But India was rapidly moving away from the old ways, and Bhaskar's father , the famous artist Roy Chowdhury Sr., was teaching in schools in Madras, and his mother, Srimati Devi Charulata Roy Chowdhury, decided to keep Bhaskar busy by signing him to multiple movie contracts in Baliwood. Bhaskar was fond of singing the songs he had sung as VARZAN, the Indian Tarzan, as he danced through the jungle with his cheeks stuffed with cotton balls to make him look fatter. In India, thinness is a sign of starvation, and fat cheeks are required for an healthy-looking hero, even Varzan. To please his pugilist father, Bhaskar went into the ring as a boxer, but a fight with Tiger Terry broke his nose, cost him his front teeth and ended his boxing career.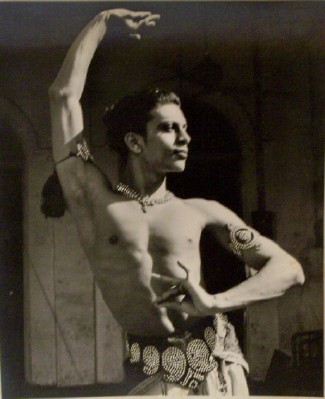 As a movie actor, Bhaskar was required to sing and dance in every scene, so rather than do it badly, Bhaskar sought out Chokka-Lingam to teach him how to dance properly. That was very good fortune for Mom, because it was this very exacting techinque of Bharatha Natyam (literally translated as "India Dance") that she was one day to learn in 1976 as a dancer in Bhaskar's American dance company, BHASKAR: Dances of India.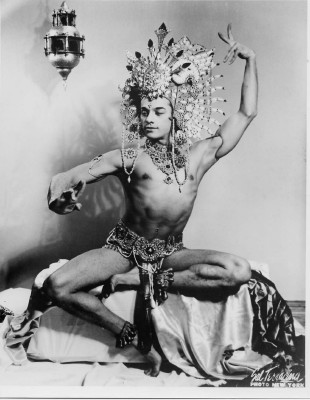 In the 1950's, Bhaskar was cast in an American production of Marco Polo, and emigrated to the United States where he later became a citizen. The photo above is from a rather historical film, "The Creation of Woman," the first movie produced by Ismail Merchant. The film featured Bhaskar as 'God,' and the dancers were members of Bhaskar's first American company, Dinu and Anjali Devi. Bhaskar always used American dancers in his dance company, taught them free of charge, brought them to perfection of technique (or else), put them on the stage, and changed their lives forever.