Grandma left one pot unglazed since 1940. The initials "EK" (Esther Kimball) on the bottom indicate, as is of course obvious, that she was not yet married to Grandaddy (They married in 1944 on Christmas eve). There were about ten pounds of Grandma's favorite clays, and several of her glazes stored in the basement in Tulsa in 1955, moved to Houston in 1965, dragged to Florida in 1983, transported to the barn in Oklahoma in 1998, and which Mom has rehydrated this last week (December 1st, 2009) to see what they will do after all these years. We are confident that Grandma would not have kept them if they were not viable.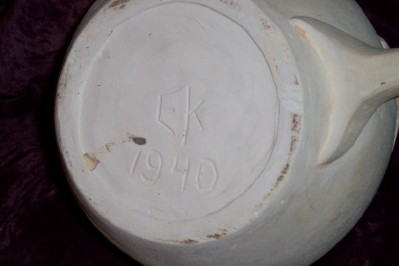 The signature and date on the bottom of the Art Deco pot
by Esther Elizabeth Kimball (Hibbard).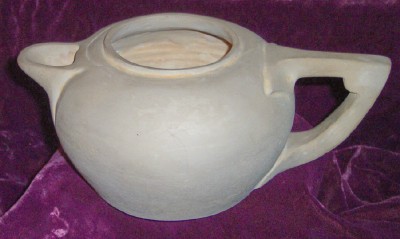 The unglazed 1940 EK pot in profile.
Here it is from the top. The sculpting on the spout and handle are so very much representative of the late 1930's styles prevalent at the time in which Esther lived and when the pot was made.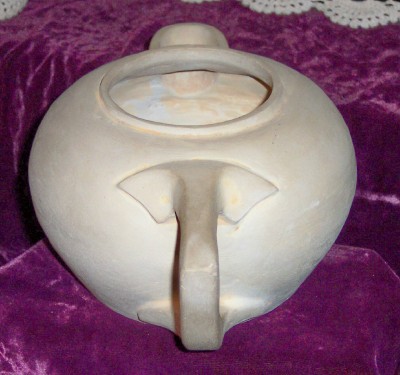 This angle shows the nice Art Deco carving on the handle.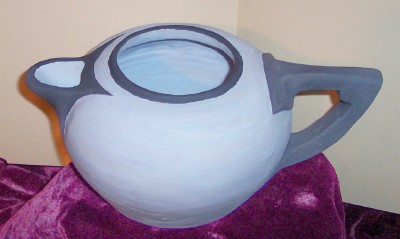 Here it is with the original glazes from Esther's carefully preserved collection which have traveled so many miles. Esther left us her book with the glaze chemistry and sketches of her pots. She was studying at Tulsa University in the art classes there. This is before firing. Mom decided to take the risk and see how the glazes will do on the pot for which they were intended. We took a vote and decided the black handle and spout with a mixture of the light blue and leaf green for the body and interior. This is already in the kiln, waiting for firing.