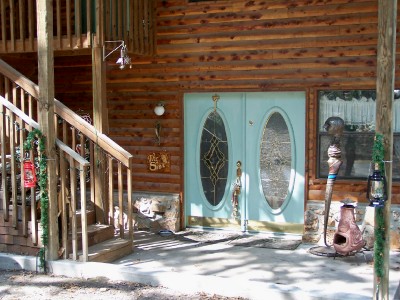 THE M.A.D. HOUSE ARTISTS
Our home was built as an artists place, where each of us may pursue his or her peculiar talent. When first envisioned, Grandma was needing to be diverted and her special needs were addressed, making our facility particularly well suited for the handicapped, sporting special steps throughout the grounds designed for wheeled chairs, and an elevator between floors at the main house. Our rural setting provides inspiration for the artist in each of us. The M.A.D. House Artists are in Oklahoma on Grand Lake of The Cherokees.
Above is pictured the front entrance of The M.A.D. House Artists. Door knocker and sculpture by Ronald Godwin, of ART WURKS in Brundidge, Alabama. The Door Knocker has the distinction of being one of three ever produced, and one the owners of the other two is Wesley Snipes. We feel that we are in good company there.
The SHIRE event is held in the Library of the main house.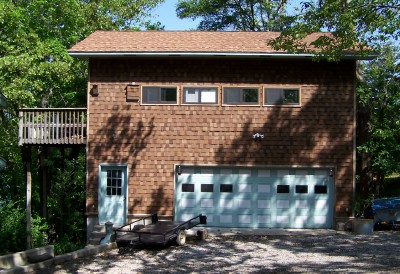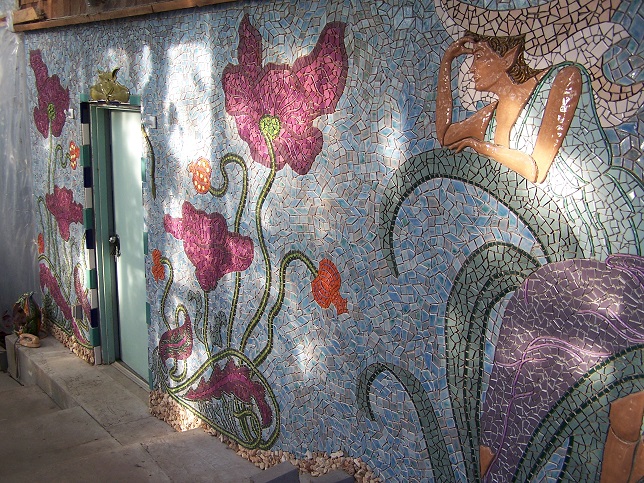 THE STUDIO:
In our dance studio we have monthly public dances, everything from Classical East Indian Dance to English Country Dance. Saturday 11:00 A.M. classes are held for exercise, breathing and stretching, along with dance for enjoyment. Our monthly social dancing is fun and no one needs any previous experience. Everyone from grandparents to very small children have joined us and no one has had to be left out of the dancing.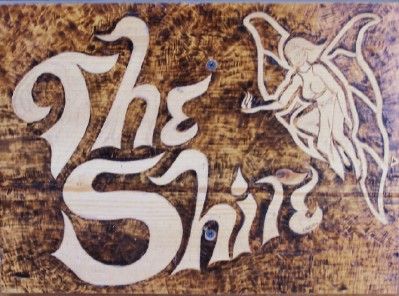 THE SHIRE:
Sunday Afternoon at 3:00 P.M. Dad reads for us from his choice of books. As Dad tends to lean towards the Fantasy genre, which is delightful, we call this event The Shire in honor of some of our favorite fantasy books. Come Sunday afternoon for a live performance to rival any we have heard in books on tape.
Also at the Shire, Tuesday morning and early afternoon are set aside for painting and sculpting in an Art Workshop with Mom.
Mom's Favors PRINCE, but who needs PRINCE,when you have your own '...not like I love my guitar...' right at home...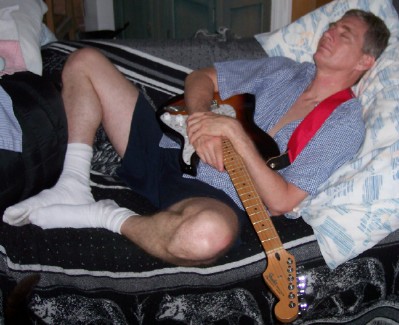 Believe it or not, this was not a posed picture,
Dad actually was sleeping with his new Stratocaster.
(and we thought we were kidding...)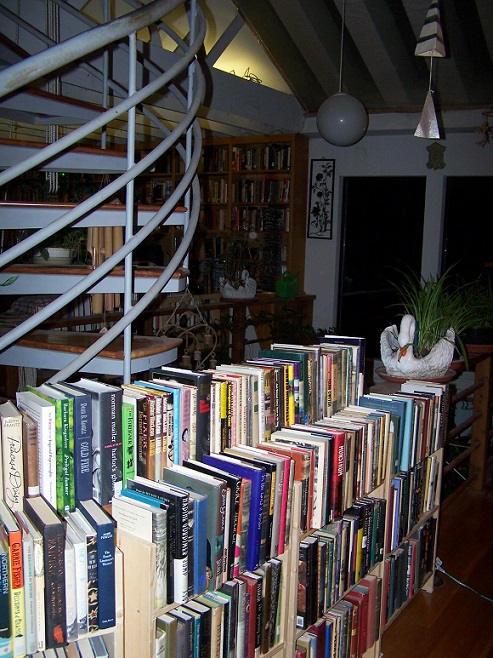 THE BOOKS:
With over 1,000 ft. of shelf space, the books we have for sale are listed with images at books.themadhouseartists.com. Music, and Films are always here, for purchase, lending, or reference. The M.A.D. House Artists hold ongoing Film Festivals, concentrating on a particular director, actor, or theme.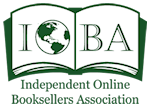 When Mom was searching for a phrase to describe all the activities and disciplines represented just between the four of us, she asked our son to write a brief description of what we do here at The M.A.D. House Artists. He mentioned that we are patrons of the arts, but Mom countered that we participate as much as possible as well. He then pointed out that we needed a description that stated that we are "participants in the arts," and "almost random." His spontaneous suggestion was so exactly right that after Mom stopped laughing we adopted it at once. Though we are not incorporated as a foundation. We immediately became
The Grand Lake Artistic Chaos Foundation
and so we remain (Thank you, Kimball!)
Welcome to The M.A.D. House Artists!