SALE !
PRICE SLASHED !
FERNIISA, NEW ORLEANS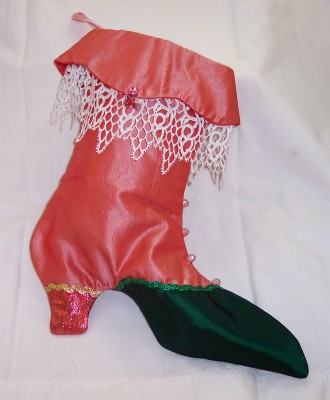 Marked down from $75.00 !!
After a Month in Exile in Oklahoma, Ms Lyn has been back in her beloved New Orleans with all eight Kitties since October of 2005, and once again creating her Unique pieces of Fabric Art.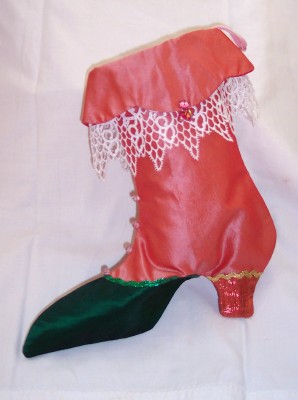 Ordinarily sold for $75.00, Ms Lyn is offering this piece marked down to $25.00 to celebrate her extreme good fortune in finding her New Orleans, Louisiana studio intact!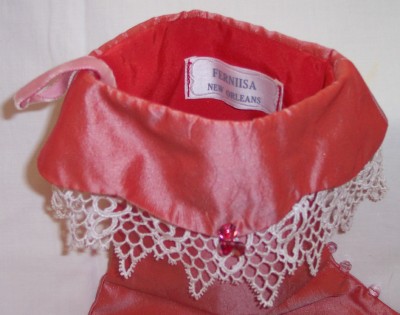 This Unique Victorian Christmas Boot can hang from your mantle with care, for the arrival of St Nicholas
Green and Rose-Pink Embossed Silk outside, Fully lined in red satin inside and trimmed with Elaborate Lace, christened with crystals and jewels.
Item is 10 1/2" wide X 10 1/2" tall, with a pink velvet looop for hanging by your chimney.
One-of-a-Kind Fabric Art by an Artist of International renown.
At $25.00, Do not miss this Unique opportunity to own an original Ferniisa Victorian Boot at this great price!
THANK YOU FOR LOOKING !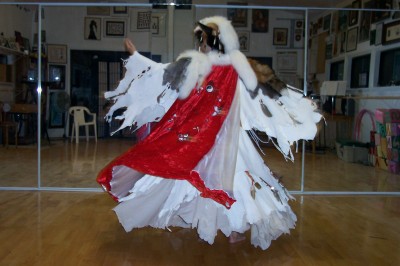 themadhouseartists.com
The Grand Lake Artistic Chaos Foundation